/ Homepage / Special Projects / History of Broadcasting in Southern Oregon / History of Radio in Southern Oregon

History of Radio in Southern Oregon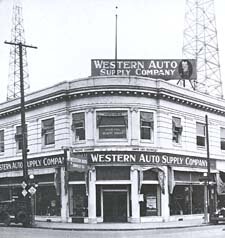 KMED's twin transmitting towers can be seen atop Medford's Sparta Building. The station began broadcasting from the corner of Riverside and Main in 1926. Photo: Southern Oregon Historical Society #7940.

by Ronald Kramer
The 1920's
In 1920 southern Oregon lived with a type of isolation which cannot be easily understood later 20th century observers. It was a time when Metropolitan Opera diva Amelita Galli-Curci would perform in the Medford Opera House or the Marx Brothers might visit - events, just like vaudeville, which would eventually be economically replaced by the electronic connections afforded by radio or the phonograph. Still, these visits were irregular. News was available from the daily newspapers but the sense of isolation from urban America was palpable. The emerging concept of radio tantalized with its sense of immediacy, of connection to the larger outside world.
The first radio transmissions stemmed from the activities of amateur radio operators, or so-called "hams," who experimented with the primitive transmission equipment then available, frequently in Morse code. Some amateurs, on the staff of large electric manufacturing companies like Westinghouse or GE, were encouraged by their companies to continue these experiments and the concept of "broadcasting" - to a mass audience - emerged largely from the efforts of these manufacturing interests and their perceived potential opportunities to sell the electronic parts, which they manufactured, to persons interested in receiving such transmissions. The first professional licensed radio broadcast station, KDKA, in Pittsburgh, was just such an outgrowth of amateur experimentation by an engineer of the Westinghouse company there, Dr. Frank Conrad, whose amateur station became KDKA. KDKA's first "broadcast" was of returns for the Harding-Cox presidential election on November 3, 1920.
Suddenly, during 1921, radio stations began popping up like weeds. Many newspapers, department stores, electrical shops, schools with physics departments, and interested individuals applied for licensees and built stations. Little thought was given to programming. It was, after all, the idea of reception at some great distance which appealed rather than the programming. A teenage radio enthusiast didn't call out to his parents (or any one else in hearing range) "They're playing 'Dardanella.'" He'd shout: "I've got Chicago. Come listen."
Radio was intriguing and electrifying and the Rogue Valley was fascinated.
Some time in the Fall of 1921 a group of Ashland friends gathered in Elmer Morrison's garage at 1049 Ashland Street. In addition to Morrison, those attending included Sam Jordan, who operated an automotive and electrical shop next to Ashland's Varsity Theater; Floyd Rush, who had been a radio operator during World War I; and Bill Virgin, a radio enthusiast who was destined to become the founder of radio in Southern Oregon. From parts probably supplied by Jordan and from knowledge probably of Rush's, a small radio 5-watt radio transmitter was assembled on a wooden board. This type of construction was known as a "breadboard" set. The name stemmed from the style of construction of the earliest receivers sold before fully manufactured sets became available. Individual component parts were purchased and then assembled on a flat board (ie., a breadboard). An early radio manufacturer, Atwater Kent, became famous for his early "breadboard receivers," which consisted of the pieces and the stained and finished "board" on which to mount them. The transmitter constructed in Elmer Morrison's garage would have been assembled in this fashion, from parts procured by Jordan and assembled on a board. The transmitting antenna was stretched out to attach to a large tree away from the building. The men probably transmitted talk, and perhaps some phonograph records, just to see how the transmitter worked. They continued for some nights and then, not knowing quite how to proceed, legend has it that Jordan wanted someone to purchase the parts to continue their hobby and, when no one could afford them, Jordan gave them to Virgin because his family had a flour mill in Central Point from which the antenna could be easily rigged.
Presumably following the transmission experiment earlier in the Fall, Floyd Rush is reported to constructed, in December, the first permanent radio receiver in the area for Bill Virgin. It is recorded that Virgin used the set in Ashland and in Central Point.
There was clearly growing interest in radio. Local newspapers were starting to run stories about the "wireless concerts" being given in other parts of the county by newly developing stations. The Ashland Daily Tidings on March 15, 1922 reported that Harry Rosenberg, of Medford, returned from the East with "a radiophone" which he installed in his rooms at the Medford Hotel to listen to the Chicago Grand Opera, Orpheum vaudeville and dance orchestras from San Francisco. According to the Tribune account, Rosenberg's was the first receiving set in southern Oregon. The Tidings referred readers to a recently published set of instructions in a magazine on how to build their own radio receivers.
On the 29th of the month, the same day soprano Mary Garden visited Ashland, the Tidings reported that Lloyd Crowson, who - as 7KK - was at the time the only licensed amateur operator in southern Oregon, had received "the Oregonian phone" (meaning radio station KGW operated by the Morning Oregonian newspaper in Portland) and sent in a reception report. "I can hear you about five feet from the [head]phones, using one step of amplification," Crowson told KGW. "My set is practically all home made. Hope to hear from the Oregonian right along from now on," Crowson wrote. To help things along the earlier in April Tidings published instructions on how to build a set and a full list of stations in the nation on April 26.
Others were joining the radio craze. Jesse Winburn, not one to be left behind the times, purchased a radio set and hired Elmer Morrison to install it for him at his "Sap and Salt" cabin up Ashland Creek canyon. George Virgil Gillette went for a ten day vacation to Lake of the Woods and took his radio set along. Gillette "reports fine concerts each evening as well as news of the day from Portland" the Tidings duly noted.
It seems likely is that the men who assembled the transmitter in Elmer Morrison's garage were captivated by the radio craze, their own fascination, and were wondering how they might combine the fun with some commerce.
The first dealer in radio sets in southern Oregon was B. W. Paul doing business as Paul's Electric Store at Main and Central in Medford. But Bill Virgin was trying to decide what to do with the broadcasting apparatus left over from the experiment the previous Fall. It is likely he was associated with Paul's in some fashion, perhaps informally. He decided to build a "real" radio station, probably feeling that it would stimulate the sale of radio apparatus, and he engaged in discussions with Paul.
The first license issued for a radio station in southern Oregon was in Klamath Falls where the Herald newspaper received authority to operate KDYU in June, 1922. It is not clear whether the station was ever constructed or operated and the Herald surrendered its license in November of the same year.
Discussion about building a radio station surfaced in Jackson county in the Medford Mail Tribune on May 25 carrying a story, out of Grants Pass, which reported upon a meeting in Medford of area electrical dealers who thought building a station in Central Point was ideal because it would be centrally located between Josephine and Jackson county listeners. Central Point had offered to "host" the station, and to give $200 toward its construction,if the balance could be raised in Medford, Ashland and Grants Pass. No one was conceiving of radio as a potentially profitable business. Rather, it was seen as a promotional opportunity for the region or as a potential stimulus to the sale of radio sets.
Virgin sprang into action. The Medford Mail Tribune not only reported on July 21 that Virgin was building a station in Central Point but that the Tribune would participate to the extent of providing news and market reports to the station for broadcast. Virgin had purchased the apparatus, was installing it himself and anticipated signing on in about three weeks according to the Tribune.
It is likely that Virgin applied for a necessary federal license in July for this station. Chipman maintains that Virgin may have operated the KFAY transmitter to some degree in advance of securing a license with the excuse that perhaps he didn't know that one was necessary. Ignorance of that type seems highly improbable although there appear to be no newspaper accounts which corroborate this earlier sign on of the station. A curious feature of the primitive radio industry at the time was that "licensing" consisted essentially of registering one's equipment rather like getting an automobile license. Anyone who requested a license was granted one which eventually created serious overcrowding on the dial. Broadcasting licenses were administered by the U.S. Department of Commerce. The Secretary of Commerce, and therefore the person charged with supervising radio, was the future president, Herbert Hoover.
The original application apparently specified operation at Virgin's flour mill in Central Point with the station licensed to the W. J. Virgin Milling Company. Instead, for unknown reasons Virgin changed his mind and decided to install his station at the old Medford Fair grounds which were then operated under the auspices of the Jackson County Industrial Fair Association. Perhaps Virgin sensed more opportunity to publicize radio in a more public setting and perhaps the Fair Association, in granting him the right to locate his station on the premises, also sensed a promotional opportunity. Virgin quickly amended his license application to specify the Medford Fairground's location and vested the license in his own name instead of in the Milling Company.
Call letters KFAY were assigned in mid-August and the station began operations on September 23 with a broadcast of Launsbach's Dance Orchestra from the Fairgrounds Pavilion. Interested parties were invited to attend to "see the first broadcast station in Southern Oregon." On September 1, 1922 there were a total of 15 radio stations licensed in Oregon. When the first newspaper account appeared in May, 1922 of proposed installation of a radio station in southern Oregon, were were only 6 stations in the state.
Reaction was immediate according to the Tribune.. "Radio station K.F.A.Y. located at Medford Oregon is getting excellent results. Last Saturday night, when broadcasting dance music by Launspach's orchestra on low power with the aerial incomplete they were picked up by Santa Cruz Calif, Sedro Woolley, Wash., Salt Lake City, Utah and other equally distant points. Last night, with the completed aerial and high power [meaning 50 watts] they probably reached over a radius of 1500 miles." Other reception reports tumbled in from California, Alaska, Montana, Iowa, Utah, Nevada, Canada, Idaho, Hawaii, Kansas and Arizona. The Grants Pass Courier editorially congratulated Medford on its ingenuity in launching the radio venture. Within two weeks Virgin was publicly advertising his radio shop business under his own name, as Virgin Radio Service. Just when he had consummated the purchase of the radio department at Paul's Electric is unclear although one early account maintains that it was in the summer prior to KFAY's sign on. He also was aggressively promoting radio with activities like the "Radio Concert" he presented at the Christian Church on October 15.
Casual doesn't begin to describe radio at this time. Other than broadcasts such as Launspach's orchestra, all broadcasting consisted of amateur talent. On September 26 the entertainment was provided by Medford High School's 23-12 Club. On the 29th a new Medford Saxophone quartet, Alford's Imperial Four, were at the KFAY microphone. Late in October the Grants Pass manager of the Oregon California Power Company sent over a contingent of his staff to perform. The home grown nature of the entertainment was made clear in a Medford Mail Tribune story on September 28. "The owners of the station...wish the public to consider the installation of a [radio station] as a community affair and wish the support of all local talent to make it a success. They wish all musicians to register with them who are willing to sing or play over the radio-phone."
Concurrent with KFAY's sign on another southern Oregon community got its first taste of local radio when KFBH signed on in Marshfield (now Coos Bay), also in September. Operating at 833 KHz, by the Thomas Musical Company, the station appears to have broadcast sporadically for a year or more and then disappeared before 1925.
It is interesting to note that contemporary newspaper accounts cite KFAY as owned by Bill Virgin and Sam Jordan. It seems likely that Jordan retained some ownership in the station for some period of time. Employees remember broadcasting spot announcements for Jordan's Electric many years later, after Virgin had passed away, apparently without charge.
The contemporary radio listener probably cannot appreciate conditions of radio service in 1922. Stations broadcast sporadically because there were so many trying to use the same frequencies. In fact, in 1921 and early 1922, only one frequency was authorized - 833 KHz (although until about 1930 frequencies were commonly expressed in the actual length of the wave and referred to as wave lengths, in this case 360 meters). All stations broadcast at the same spot on the dial which obviously meant they could not all broadcast at once without interference. In a kind of gentlemens' agreement, they shared the frequency. By late 1922 the growth in the number of stations forced the U.S. Department of Commerce, which was then responsible for radio regulation, to authorize a second frequency of 750 KHz (or 400 meters). Smaller stations, which included those which used phonograph recordings, were required to stay on the old 833 KHz frequency but the first class stations could use 750 KHz, which was a less congested neighborhood.
Therefore, when the Medford Mail Tribune published a radio schedule on March 17, 1922, looking like this:
Sunday
| | |
| --- | --- |
| 10 to 11 | Fairmont Hotel, San Francisco |
| 11 to 12:15 | Trinity Center, San Francisco, sermon |
| 12:15 to 1 | Warner & Linden, San Francisco, concert |
| 2 to 3 | Stockton record station of the Portable |
| | Wireless Telephone Co., concert |
| 4 to 5 | Colin D. Kennedy, Los Altos, concert |
what it really meant was that these individual stations were signing on and off. By turning your radio on and not moving the dial, these were the programs which would issue forth at given times as stations made way for one another on the same frequency. KFAY's contribution to this crazy quilt was Wednesday evenings, from 9 to midnight and other occasional offerings.

Virgin's radio business prospered. His Radio business moved into new quarters in the Medford Building, where Christian's Pharmacy is now located, in the old Woolworth building on Central north of Main. On April 19 a crisis arose when Virgin reported to the Fairgrounds to prepare for an upcoming broadcast, not having been to KFAY for about a week, and discovered that all his radio equipment had been stolen. Two youths were apprehended, convicted of the theft and sent to the youth correctional facility in Salem, but Virgin's equipment was not recovered. The station was off the air for a time but new equipment was secured. A newspaper report indicated Virgin was thinking of rebuilding KFAY at the Natatorium.

Some time hereafter KFAY left the Fairgrounds location and appears to have operated out of Virgin's Radio Shop in its various locations.

Radio was a combination of quaint and exhilarating. Everyone speculated upon its significance as the following newspaper quotations relate:
"A radio university, placing higher education within the reach of all, is now considered but a matter of time. The future educational possibilities of radio seem to be limited only by the cooperation of the people."

"An estimate based on manufacturers' reports show that more than $5,000,000 a week is being spent on radio equipment in the United States."

"The unemployment problem of engineers and electrical technicians has been solved by the radio boom, according to a report issued by the Federated American Engineering Societies. Since January 1 the Society has placed in employment more than 900 engineers and is continuing its placement at the rate of more than 20 a day."

"Dr. Marconi says present day radio sets will be junk in ten years. So will be a typewriter, an automobile and many other kinds of apparatus. The main thing is to look out for the sets that are junk when you buy them."

"Radio enthusiasts of Cleveland, Ohio must now pay a license fee of 50 cents, both for sending and receiving. The city council recently passed an ordinance which requires licensing and inspection of all radio stations, professional as well as amateur, in that city."

"Stories are coming in from many directions of dogs which have become confirmed radio enthusiasts. We should think that the ideal dog would be a setter who carries his tail high for one pole of an antenna. We wonder how the cat's whiskers in the set affects the canine fan."

"The difference between party line telephone service in the country and radio is that all the neighbors are expected to listen in in both cases, but no one objects in the case of the radio."

"Educational experts say that radio will prove of great assistance in the development of the minds of subnormal children. The great obstacle in their education has been the inability to arouse interest. It is believed that radio will greatly stimulate such interest."
The exact status of KFAY after it left the Fairgrounds, and prior to 1927, remains a little shrouded by time. Federal records are difficult to locate. Based upon telephone listings it would appear that Virgin operated the station out of his Radio Service shop as it moved through its several locations. Somewhat contradicting that view, one must note that during the time of the studio theft in April, 1923 Virgin noted that the only items not stolen were two pianos and the antenna - and any studio big enough to hold two pianos, and which tended to feature live music, seems somewhat large to absorb into the confines of a retail service shop. Local legend has it that the station operated of Central Point, presumably from the Virgin family's mill, a legend reinforced by Lee Bishop who came to work at the station in 1929 but who had heard that KFAY had earlier operated from Central Point. No conclusive corroboration for either the Virgin shop locations, or Central Point, has been found although corroboration for the view that the Fairgrounds operation gave way to operation from Virgin's shop is to be found in William Pierce Tucker's 1931 History of Jackson County. Tucker's nearly contemporaneous account reports that "[KFAY] was operated in Virgin's Radio Shop (Medford) part of the time; the rest of the time it was in operation at the County Fair Grounds.

What is clear is that the entirely noncommercial, public spirit quality, with which radio began in late 1920, proved a major economic headache for would-be radio broadcasters within a short while. Particularly in urban areas, once the thrill of initially broadcasting had worn off, performers tended to want to be paid. Businesses were operating stations for the most curious of reasons. I once interviewed a fellow who went on to a distinguished career in radio but who started out as a bank teller. The bank had a started a radio station to give out stock market reports at noon and he was paid to give up his teller's lunch hour and go "turn on the radio station," broadcast the reports and shut it down again. Soon public demand forced the bank to keep the station on longer and this fellow became the station manager because he knew more about it than any one else at the bank. In short, stations had to begin paying for staff as well as talent and, short of manufacturers who could sell receiving sets or parts to make them, no one had yet figured out how to create any revenue out of the new radio craze to meet costs of this kind.

AT&T owned the largest station in the nation, WEAF, in New York, and in a typically telephone company-like analysis, came up with the ideal of "toll broadcasting" - like a toll telephone call. They would build the station and permit people to lease the use of it for brief periods of time to speak to the public - in short to advertise. Herbert Hoover, who as Secretary of Commerce was in charge of regulating the fledgling radio industry, thought it was a terrible idea. So did most people in radio, including the chief operating officer of RCA, David Sarnoff. But it was the only system any one had devised to pay the bills and it caught on quickly. KMED started to sell advertising also. Art Chipman, author of a history of KMED published by the station in 1972, relates that: "Mr. Virgin would make the rounds of people he thought might wish to advertise that day and then go over to the station in the evening and broadcast until such time as the advertising had been used up."

On May 15, 1923 Hoover put a new three-tier frequency plan into effect. Under this arrangement the 200 meter - 300 meter band was reserved for use by smaller stations which would be moved from their common 360 meter frequency. Larger stations would use the 300 meter to 545 meter spectrum. A significant number of stations which Hoover hadn't had time to reassign would remain in the congested 360 meter common frequency pending further reassignments as the year unfolded. By February, 1924 KFAY was operating at 1060 KHz (283 meters) under the new plan.

By 1924 KFAY was attracting considerable attention. The Medford Mail Tribune reprinted a column from Radio Magazine's October, 1923 issue which lauded KFAY and ended by saying: "If these words happen to come to the attention of the Chamber of Commerce of Medford, they may feel assured of having procured at least one new visitor in the near future because if they really have such fishing as the circular [which KFAY had sent to accompany some data on technical tests they had conducted] boasts we shall probably bring our camping outfit along and stay in that exceedingly attractive region for quite some time."

In July 1923 Virgin announced that he had secured the franchise to sell De Forest and Federal radios - a highly prestigious line of sets. Where Virgin had the only radio shop in 1922, now competitors were opening. Sam Jordan, of Jordan Electric, was selling Freed-Eisemann radios in Ashland although Virgin probably didn't view Sam as a competitor. But Enders' in Ashland was also selling radios. And Minkler's had opened up in Medford at the corner of Main and Fir and Grants Pass had several radio dealers alao. Radio sales seemed to be prospering. The radio station business, however, may have been more challenging. In the beginning the novelty of radio, of hearing one's neighbors on the air, was a thrill. But local talent was hard-pressed to compete with the developing network programs offered by big, corporate-supported radio stations. These programs were increasingly becoming available. Moreover, one aspect of the curious physics of radio may have started to haunt KFAY. Unlike modern FM stations, AM signals travel much further at night. Moreover, in the relatively uncrowded (compared to current times) radio conditions on the band, AM signals traveled great distances which accounts for tiny KFAY's reception reports from such distant listeners. Virgin was operating a retail business by day and, for that reason, doing most of his broadcasting at night. Yet, at night it was the network-affiliated "chain" stations from California, Portland, Seattle and even locations in the east, which could easily be received by southern Oregon listeners. The Medford Mail Tribune printed radio schedules regularly now for distant stations and did not necessarily publish KFAY's. Stations for which the Tribune listed programming included KZN Salt Lake City, WBAY Fort Worth Texas, WTAM Cleveland, KDKA Pittsburgh and WEAF New York. The tremendous distances which signals traveled is made clear by an exchange of messages between KFAY and the Gimbel's Department Store station in Philadelphia, WIP, which asked KFAY on February 14, 1924 to monitor a WIP broadcast for them in a special fashion.

The result was that KFAY saw its greatest competition for quality programming in the evenings which was Virgin's preferred time of operation. It seems possible that KFAY's bright light of 1922 had clearly dimmed by 1925. While KMED, KFAY's successor station, maintains that its review of files indicates that KFAY broadcast continuously from 1922 on, the evidence that KFAY had "gone silent" by 1925 is compelling. Radio News' listing of all U.S. radio stations in its April, 1925 issue does not list KFAY. Radio Digest Illustrated, a radio hobbyists magazine which listed all stations in the nation, their frequencies and schedules, reported in its October 31, 1925 issue that KFAY was "off the air." Dave Rees, who came to work at KMED in 1930 and served as the chief technical employee for most of the time until 1947, reports his understanding that KFAY was off the air for over a year before KMED took over. The Medford 1926 phone directory omits the KFAY listing for the first time in since 1923. And William Pierce Tucker's 1931 "History of Jackson County" reports that "Since 1925 KFAY has been silent." From these various sources it seems clear that KFAY signed of the air early in 1925. Whether Virgin had remitted KFAY's license back to the Department of Commerce is, however, not clear since the Radio Digest Illustrated listing still refers to the station.

In 1924 KFAY moved to 1200 KHz where it remained for many years. In the face of the federal government's inability to adequately regulate the industry under the statutes then in force, conditions on the AM band were becoming increasingly chaotic . Even though significant numbers of "old" stations were failing, two or three ones sprouted for every old station which went silent. By late 1923 Hoover had abandoned the scheme of having most stations share the same one or two frequencies and began issuing discrete frequency assignments to individual stations. He hoped that this approach would limit interference. The interference issue was a real one. Listeners had a considerable investment in receiving equipment and sets were expensive. It would not be unusual to spend $150 to $250 on a radio. This at a time when you could purchase a new car for $600. Moreover, radios were expensive to operate. The large, expensive and acidic wet cell batteries on which they operated could easily cost $10 per month to charge and/or replace. Like milkmen, companies were in business which would pick up your big batteries at your home, leave you a "loaner set," take your batteries to charge at their shop, and then return them when the charging was completed on a monthly basis. So, if all the listener could pickup were the squeals of stations interfering with one another, their members of Congress heard about it from them. One such complaint was sent in by Bill Gates, of Medford, who wrote to Senator Charles McNary (R - OR) to complain. Gates, a Medford merchant who owned the Groceteria grocey, who was destined to later play a role in broadcasting.

To compete with this type of competition, KFAY needed more power. It needed studios which could showcase talent in a fashion which would help the station compete with the network programs. It needed more paid staff. It possibly needed additional working capital.

The Medford Mail Tribune had seemingly always been somewhat more than casually interested in radio. Early in KFAY's existence the paper had made news and market reports available to the station. Now Virgin and Robert Ruhl, the widely respected editor and co-owner of the Tribune, entered into a partnership under which ownership in a new, successor station to KFAY would be equally shared. Ruhl reportedly purchased his 50% interest for $1,500. Perhaps the arrangement was based on a handshake for no written partnership agreement now seems to exist and Virgin, in implementing the arrangement, applied to the Department of Commerce solely in his own name again. A new, commercially manufactured Western Electric transmitter was purchased to replace the home-made affair which had been in use since 1922. New studio equipment was ordered and a prestige studio location was leased on the second floor of the Sparta Building at the corner of Riverside and Main in downtown Medford. Two huge, 85-foot tall wooden towers, purchased from local farmers who possibly used them as windmills, were installed on the roof of the building 82 feet apart with wires stretched between their tops to do the actual signal transmission. The towers must have dominated the downtown Medford skyline and been an imposing sight from the ground.

Radio's were just coming to market which could be operated off of AC house current, replacing the cumbersome, expensive and odiferous battery sets which had been in use until that time. But the technology to operate transmitters off of commercial current was still some years off. The new transmitter required a motor generator, which in turn was activated by a large 100 ampere hour storage battery, much like a car is primed by a battery which powers a generator to operate the car once it is started. Lee Bishop, who came to work at KMED in 1929, reports that the transmitter was actually located in the studio - with suitable admonitions to guests and performers not to tamper. Corroborating Chipman's account that the Ruhl investment was personal, as opposed by in the Tribune's name, Gerald Latham, long-time circulation manager, later business manager and general manager of the paper, reported that Ruhl was skeptical of having the paper invest outside of the newspaper business.

On October 6, 1926 the Tribune proudly announced the new association in a large ad. "NOW! A Radio Broadcasting Station for Medford" it proclaimed. "A New Western Electric Station of the Latest Type Will Be Established Here in the Near Future by -- Virgins Radio Service and the Medford Mail Tribune. The establishment of Medford's own new station is a progressive step forward in a progressive community and reflects credit on the initiative and enterprise of The Medford Mail Tribune and Virgin's Radio Service."

Another ad followed on the 17th. "A Civic Enterprise!" - it trumpeted. "Radio has assumed a place of utmost importance in the world today. The influence is far-reaching; its value incalculable. It will mean much to have Medford's name among the radio broadcasting stations of the Pacific Coast. People here will enjoy regular weather reports, news items of interest and sporting events furnished by the Mail Tribune. Regular programs will entertain local people as well as radio fans from Calgary to Tijuana. Virgin's and Mail Tribune's new station will mean much to Southern Oregon." The station was predicted to sign on December 15.

No where in such ads, or accompanying news stores, was KFAY so much as mentioned, all lending support to the interpretation that KFAY had faded from view. Virgin filed an application for the new station on December 13 and it was granted on December 26. Its authorization was further delayed while Virgin executed a necessary waiver in which he acknowledged that a license would not vest in him any property rights in the frequency. The waiver was required because the interference conditions in radio had grown intolerable. Hoover, seeking to bring order to the chaos, had begun ordering stations to use given frequencies, transmitter powers and hours of operation and the Zenith company, in a famous case, went to court to argue that existing federal legislation didn't give the Department of Commerce such authority. The court agreed, Hoover abandoned his regulatory effort, and stations began changing frequencies and raising power at will each seeking to be heard above the growing electronic din. The public and the radio industry all screamed for relief and, recognizing the growing need to strengthen authorizing legislation, on December 8, 1926 the Congress directed that anyone seeking a frequency from the Department of Commerce had to sign a waiver of any property rights in the frequency they received so that new station's assignments couldn't be used to legally preclude what everyone now recognized to be an urgent need for new legislation.

Virgin's license application carries the note: "Owner requests call letters 'KMED'" with the subsequent "(KMED) App'd" and the Supervisor of Radio's initials. No where does the currently sparse federal archival file on KMED mention KFAY although Tucker reports that KMED received a favorable frequency assignment because the station had priority rights arising of KFAY's use of the frequency since 1922.

After a couple days' testing, KMED formally signed on at 6 PM on December 28. The opening broadcast featured news reports from the Tribune, an address by Professor Vining of Southern Oregon Normal in Ashland, vocal offerings by members of the Maddox family, various other musical performances, a special "Frolic" presented by Medford's Crater Club - which included humor associated with the proposition that Crater Lake might be enlarged as a harbor for Medford - and old-time dance music by Nick Kime. The station announced an initial broadcast schedule covering afternoon and evening offerings - and engaged a staff suitable to the assignment.

Arrangements had also been made for a leased wire connection to KFWV, which broadcast with 500 watts from Portland, under which the programs originating at KMED could be simultaneously rebroadcast over the Portland outlet thereby enlarging both audience size and Medford's potential influence in the radio world. This arrangement, if ever actually put into effect, most not have lasted very long.

In addition to Floyd Rush, who had been handling engineering assignments continuously since 1922 for KFAY,, Virgin appears to have had other staff as well. Perhaps enhanced by the newspaper's association, sponsors appeared in profusion. "Music by Wolf," featuring Nick Kime, was offered by the Armory Service station. McPherson's men's clothing store, Jackson County Creamery and Young's Garage offered programs. People's Electric sponsored the performances of Mrs. and Mrs. Carleton Janes. The Associated Buick Dealerships of Southern Oregon offered the Buck Master Six Orchestra. Russell's Department Store offered a live performance of Gilbert and Sullivan's "Pirates of Penzance." On the 13th KMED ordered a phone circuit i order to broadcast live the Second Anniversary of walker's Old Time Ball from the ballroom upstairs in the Medford Center Building where Virgin had earlier had his shop. In a Tribune editorial published on December 29 the paper applauded Virgin's initiative and the Tribune's own foresight in creating KMED. The Grants Pass Courier editorially applauded Medford as well saying: "We must take our hats off to our neighbors. Medford now has a licensed broadcasting station by which much valuable advertising can be accomplished for the Rogue River Valley.

Vocalist Gladys La Marr had appeared previously in the Rogue Valley but had moved on to KPO, San Francisco. She returned on January 17 to perform over KMED. A talented vaudeville performer, she was a veteran of the Pantages circuit having appeared with headliners like Olson and Johnson but was now appearing on KPO and other Bay area stations. She permanently returned to Medford in 1934 to serve as KMED's Program Director and remained at the station in that capacity until 1950. At the end of 1927 the Medford Chamber of Commerce, in reviewing the preceding year, cited KMED's presence as one of the great achievements of the preceding year.

From December 28, 1926 on, the Tribune unfailingly referred to KMED as "the Mail Tribune Virgin station" in all references - save one. On Friday, January 27, 1928 Bill Virgin died at the age of 41 leaving his wife, Blanche, to inherit the station and responsibility for operating it. Virgin had suffered for some years from Bright's disease, which had seemed to be under control, but in January his condition changed, turned acute and he died quite suddenly leaving friends, his wife and KMED stunned. Oddly, the obituary published in the Tribune's on the 28th, no mention of the Tribune association with KMED in identifying Virgin's role as a pioneer broadcaster and operator of KMED. Reportedly, Ruhl had decided his investment in KMED was a mistake and that radio had little future. According to legend, Ruhl magnanimously abandoned his $1500 investment in KMED and gave up his share to Virgin only a few months after KMED's launch. Curiously, the Tribune continued to refer to KMED as the "Medford Mail Tribune - Virgin station" for many years. The absence of the Tribune reference in Virgin's obituary would suggest that Ruhl had returned his interest in the station to Virgin prior to the latter's death, just as Chipman reports.

Virgin had been a close friend of Bill Gates, the same Bill Gates who had written Senator McNair about interference in 1924. Presumably shortly before his death, Virgin solicited from Gates a promise to look after Blanche and help her operate KMED. She was,in fact, the first woman in the nation to own and operate a station. For years Gates was an unpaid financial and business advisor to Mrs. Virgin until such time as the station was on sound footing and she seemed able to proceed on her own. Even then, he remained a special associate of the station throughout the time Mrs. Virgin owned KMED.

KMED was active in sports broadcasting. Tucker reports that "in 1929, KMED broadcast more football games,play by play, than any other Pacific Coast station, regardless of size. It was the only Pacific Coast station to broadcast full returns of the 1929 World Series baseball games, which it has done for three years. KMED also broadcast what is reported to be the first broadcast of a high school football game on November 11, 1927 and the first broadcast college football game, University of Oregon versus California, on October 15, 1927.

The staff was growing. Days before the famous Stock Market Crash of 1929, Lee Bishop was hired as announcer, reasonably soon became program director and then station manager. Dave Rees, hired as an announcer but possessing a fine technical background, came early in 1930. By 1931 the staff had grown to include Russell Breig, sales manager and Eddie Randall, assistant announcer and assistant engineer, in addition to Floyd Rush, Dave Rees and Bishop. In that same year the station was broadcasting from 8 AM to 4 PM and from 6:15 to 10:00 PM or Midnight daily. Church services were offered on Sundays. Rees was a singular addition to the sports announcing staff broadcasting many sports remotes, in particular wrestling match coverage at which, according to Lee Bishop, Rees had no peer. Rees built the remote broadcasting equipment necessary for such live remote broadcasts. Rees also make the station's first condensor microphone and built a turntable by copying a commercial unit.

In 1932 Rush left KMED after ten years continuous association with the KFAY, and KMED, Virgin broadcasting efforts. His ingenuity and pioneering spirit were widely credited as having helped radio endure in southern Oregon.

Since KMED possessed no method of recording programming until well after the second World War All local programming was entirely live. In addition to offering phonograph recordings, like the disc jockey style which radio evolved into in the 1950's, KMED also broadcast what are called syndicated programs which were produced centrally and distributed to stations on large phonograph records (originally at 78 RPM speed and later at 33 RPM). Several dramatic programs, and other specialty features beyond a local station's abilities, arrived in that fashion for daily broadcast on KMED. According to Lee Bishop, KOIN in Portland would use the disks and then mail them on to KMED for broadcast. Because KMED lacked a network hookup, syndicated programming provided the station's closest ability to compete with programming of similar quality. Several dramas and serials were broadcast including the soap opera "Ma Perkins" (which in later years became a network feature). According to Lee Bishop "Medford stopped at 10 AM every day for 'Ma Perkins'."

On March 15, 1928 southern Oregon's second permanent radio station was born. KOOS signed on the air, following the earlier failure of KFBH, thus giving Coos Bay its first permanent local radio service. In December of that same year the newly formed Federal Radio Commission, formed as the government's attempt to eliminate the interference mess on the AM dial, ordered KMED to move to 1310 KHz as part of that effort.

The 1930's
KMED raised its power to 100 watts in 1931. Again in 1933 the station wished to increase power but it was not feasible to operate a transmitter of larger size from the Sparta Building and for that raeson Mrs. Virgin secured land to the west of Medford on Ross Lane. By this time Rush had left the station and Rees was in charge of engineering. He installed a 250 watt transmitter on Ross Lane which he had constructed himself. Apparently, the Ross Lane site was chosen carefully. AM radio signals travel best from areas with moist ground. According to Gerry Latham the Ross Lane site had the highest water table in the entire Valley. The Sparta Building studios were also remodeled in an exotic Chinese motif reflecting the station's growing financial success. In 1932 a small station, KFJI, which had signed on in Astoria in 1923, moved to Klamath Falls and brought that city its first radio station.

KMED was too small a station, in too small a city, to be of interest to the major radio networks, NBC, CBS and Mutual. As a result KMED in a modest way participated in several sporadic attempts to launch a fourth major radio network. One such attempt was the United Network, anchored from KFWB in Hollywood, KXL in Portland and KXA in Seattle, around 1930. No such efforts were successful. Another effort was a sports network put together by Tidewater Oil to carry west Coast sporting events for stations in the region. It was not until NBC allowed KMED into its fold, which Chipman reports having occurred in 1937, that KMED secured the status and revenue resulting from a major network association. It was not until the NBC connection was established that "Amos 'n Andy," Eddie Cantor, Rudy Vallee, the National Barn Dance and other major 1937 features would come to KMED.

Interestingly, one of KMED's first NBC broadcasts may have been the famous appearance of Mae West on the top-rated "Chase and Sanborne" program featuring Edgar Bergen and Charlie McCarthy. The variety show aired on Sundays and on December 12, 1937 Mae did one of her "why don't you come up and see me some time" bits with Bergen's dummy, Charlie McCarthy. Laced with double entendre's, the exchange provoked a storm of protest across the nation. Federal authorities formally inquired of NBC about its standards and an embarrassed NBC issued a statement indicating that "The script, when read in the ordinary way, was inoffensive but sounded differently on the air."

In 1939 the Rogue River Valley saw it second radio station emerge. According to the Grants Pass Daily Courier the idea of installing a station in Grants Pass originated with pioneer broadcaster William B. Smullin who solicited the interest of Courier publisher, Amos Voorhies, in the venture. Somewhat like Robert Ruhl in Medford, Voorhies had evinced an early interest in radio. Beginning early in 1922 the paper had run a regular, and extensive, series of columns with instructions for building radios, adjusting sets, building aerials, helpful hints, new trends in radio, and funny stories about the emerging medium. In all the percentage of space which the Courier devoted to radio at this time considerably exceeded the attention displayed by southern Oregon's other dailies. The Courier installed a radio set in the Women's Building for the 1922 Josephine County Fair. Voorhies' son, Earle, superintended the erection of the aerials and installation of the radio after having had marked success with the radio at his home. Perhaps it was the same set which the Courier then installed at its offices, providing front page reports on the number of stations which could be received by the "Courier radio-phone receiving set." Crowds collected outside to listen to the Courier's apparatus. Some weeks later the Courier slyly suggested that "A local doctor is contemplating sending a bill to the Courier not for services rendered but for services not rendered" when a young girl, erroneously thought to have broken her ankle, was soothed in the hospital by the Courier's radio set while awaiting the doctor's arrival. Her pain subsided and it became unnecessary for her to see the physician. "The Courier radio is the greatest ever" the newly-healed girl squealed.

Together Voorhies and Smullin, who previously had built an AM station in Eureka CA in 1933, developed KUIN, which signed on December 16, 1937. With 100 watts, operating at 1310 KHz, the station was affiliated with the Mutual Network and brought Grants Pass a great sense of accomplishment. Just as KFAY and KMED had showcased local talent, KUIN highlighted the community's talents. In the 1950's KUIN became known as KAGI.

In 1939 KMED filed an application with the Federal Communications Commission (FCC), which in 1934 had taken over the duties of the earlier Federal Radio Commission, to build one of the new Frequency Modulation (FM) stations. A product of brilliant radio inventor Maj. Edwin Armstrong, FM provided static free, high fidelity reception vastly superior to AM's capabilities. But World War II interrupted FM's development and KMED's plans for FM.

The 1940's
On March 29, 1941 KMED moved to 1440 KHz on the dial, its final home, and raised its power to 1,000 watts. The same year KMED moved its studios from the Sparta Building out to an elaborate, new, state-of-the-art Art Deco studio building on Ross Lane. While built by a Mr. Whiteside, according to Dave Rees, the design was Blanche Virgin's. "She could see in her mind what she wanted and she built it," according to Rees.

An interesting sidelight to KMED's NBC affiliation was the station's ability to broadcast "One Man's Family," arguably the most influential soap opera ever developed. The program started out in syndication but jumped to NBC in 1933. Unlike most soap operas, "One Man's Family" was broadcast in evening hours. Like "Dynasty" became a "super-soap opera" in TV, "One Man's Family" stood larger than the other soaps. It was radio's most influential soap and was enormously profitable and extremely long-lived. It was the product of writer Carlton E. Morse, whose father owned land in Ashland and for whom Morse Avenue was named. Carlton Morse's sister was Mrs. Henry B. Carter who lived in Ashland for many years. Carlton grew up in Ashland and wrote many of his radio scripts at the family home on Morse Avenue while visiting there.

In 1941 the FCC ordered NBC to sell one of the two major radio networks it operated, the Red and the Blue, on the theory that NBC's ownership of two of the four national networks was an anti-trust violation which injured the public interest. As a result, NBC chose to sell the weaker of its two networks, the Blue. Ed Noble, president of the Wrigley Gum Company, purchased the Blue in 1943 and operated it briefly as the "Blue Network" (which is how listeners identified it anyway) but renamed the network the American Broadcasting Company (ABC) after a time. Since the Red and Blue facilities were completely intertwined, both in terms of stations owned by the network, studio facilities and staff, the separation was wrenching and somewhat comic. Groups gathered in studio locations to sort out microphones (one for Red and one for Blue), mike stands, and other broadcasting paraphenelia. Staff members were somewhat arbitrarily assigned in similar fashion. One day they all worked for the same company and the next day they were competitors.

World War II was a galvanizing moment for radio. Nationally, radio cemented the national conscience as never before. Broadcasters like Edward R. Murrow touched the nation's heart and mind, becoming celebrities larger than life, and created a broadcasting journalism culture which still endures nearly fifty years later. Locally, radio was also enmeshed in the war-time reality of the community. War bond drives tin-can drives, victory gardens and other efforts to support the community's newly strengthened sense of common purpose, were routine programming elements. The War also interrupted technical developments like FM and TV. And it gave KMED the opportunity to program from, and for, the large military community at Camp White. KMED, with young ex-KMED employee Sgt. Jimmy Dunlevy as MC, broadcast many programs over NBC from Camp White, feeding the network via KGW in Portland.

When the War ended the world had changed and radio, along with it, was also changing. The FCC's war-time freeze on station construction was lifted and new stations sprouted up. KFLS signed on in Klamath Falls at 1450 KHz in 1946. On July 13 of that same year KMED received the final FCC construction approval for the FM station in Medford which it had originally sought in 1939. On the same day the FCC also authorized an FM station application in Ashland which had been filed by a local group, Siskiyou Broadcasters. But FM seemed too risky a business for too many and neither FM station was constructed.

On July 30, 1946 Jackson county's second AM station, KWIN of Ashland, went on the air at 1400 KHz with 250 watts offering a DJ/music style of programming. Owned by Rogue Valley Broadcasting and managed by Roy Peck, the new station's program director was none other than Floyd Rush. The station's studio and transmitter were constructed on Helman St. in Ashland and the city's sense of civic accomplishment swelled just a bit. Unfortunately, without a major network affiliation, the economic picture which KWIN faced proved to be rather challenging. On December 5 KWIN received an FM station construction permit from the FCC for which it had previously applied. The FM station was never constructed.

On September 25, 1947 the Medford Mail Tribune received an FCC construction permit to build an FM station in Medford. The station was also never constructed. On October 10 the Tribune signed on a new AM station it had built, KYJC, with 250 watts operating at 1230 KHz. The story of the paper's re-entry into the radio field was complex. Ruhl apparently had initiated and authorized the project but then been drawn into some extensive travel and other commitments which prevented him from personally supervising its actualization. Other staff stepped into the breach and Gerry Latham, then circulation manager, wound up essentially supervising KYJC's construction on the side despite the fact that had no previous experience in the radio field. Gerry Latham had reviewed three sites for the station before selecting one on Barnett Road. Originally a slaughter house building, which had burned, the structure was being remodeled as a three bedroom home when Latham picked it as a transmitter site and studio location and the station was constructed - but no FCC permission to operate had been received. In places the walls of the old slaughter house building were more than a foot thick. "I was asked what we would do with the building if the FCC turned us down," Latham remembers, "and I said we could always turn the building into a night club."

The FCC authorization arrived on the afternoon of October 10, 1947 and KYJC signed on at 6 PM to broadcast the Medford High - Eureka football game. On March 1, 1949 KYJC joined the ABC Radio network. The Tribune naturally intended to have KYJC become a leader in local news broadcasting and made clear that it would use the Tribune's resources to help strengthen KYJC's news programming. Newspaper staff prepared and presented news over the station at the radio studios. Eventually, a radio booth was installed at the Tribune so reporter/announcers could broadcast KYJC newscasts without having to travel to the station. Al Reiss, who remained with the Tribune after the paper sold KYJC was originally hired to work at KYJC and served as the station's News Director. Latham continued to supervise KYJC until the Tribune sold the station in 1973, when KYJC was sold by the Ottaway group which had purchased the Tribune.XXXXXXXXXXXXX

In 1948 southern Oregon's first FM station signed on when KGPO(FM) first took to the air in Grants Pass. A sister station of KUIN and started by KUIN's owners, Amos Voorhies and William B. Smullin, KGPO was a daring venture. Few FM receivers were in existence and TV was emerging to further cloud the media horizon.

In 1947 long-time KMED chief engineer Dave Rees left the station to start his own station in Mt. Shasta, KWSD. Floyd Rush returned to his old station and remained until the early 1950's. In 1948 Mrs. Virgin hired another engineer, Ray Johnson, to help install a new 5,000 watt transmitter which the station signed on on Sunday, January 23, 1949. Mrs. Virgin asked him to remain permanently. In 1947 she had married a long time station employee, Eddie Randle. Perhaps sensing the major changes for radio which loomed on the horizon, she was thinking of selling on the station. In June, 1950 she did - to a group of local businessmen: Verne Robinson - a local insurance man; Dr. Dwight Findley - physician; Dr. Bert Lageson - a dentist; Les DeArmond - a mill and lumber operator; and Howell Murphy - a packing house and fruit shipping operator. They did business under the corporate name of Radio Medford, Inc. When Blanche Virgin walked out of the KMED studios in June, 1950 she never returned to the station. An era in broadcasting in southern Oregon had come to a close.

While he had not been hired for that purpose, Ray Johnson was appointed manager of KMED in a reasonably short period of time. Eventually he became an owner of Radio Medford and its various broadcast holdings in addition to managing the enterprise - and he continued as General Manager until turning over those responsibilities to his son, Bob, in the 1980's. To this day Ray remains actively involved in the company.

The 1950's
On March 1, 1951 KWIN ended its status as an independent (not affiliated with a network) station by joining the Liberty Broadcasting network. Little remembered now, Liberty was founded by Texan Gordon McClendon. It was organized largely around sports broadcasting but used a largely outmoded approach. It should be noted that some of KMED's sports broadcasting, in the earliest days, was conducted using what was known as "recreations." Rather than broadcast "live" as a modern listener would expect, the station hired the Western Union Telegraph company which supplied two telegraphers, skilled in Morse code, and a telegraph wire between the KMED studio and the sporting event. At the event one telegrapher would describe the action in code in a kind of shorthand over the leased circuit. "Batter walks. Babe Ruth to bat." might be all that the coded message contained. At the studio the other telegrapher would listen to the Morse coming in over the line and type out those words as they came in. Then a studio announcer, reading the typewritten page through the studio glass window, would ad lib play-by-play coverage elaborating on the spartan text coming in from the telegraphers. Sometimes a sound effect, like a slap of a bat, would be added by the announcer to heighten realism.

Because the major networks had tied up broadcast rights for all the major sporting events, Liberty produced for its network this type of telegraph recreation coverage - which could easily lag ten or fifteen minutes behind the actual event - as a way around the exclusivity of the live carriage rights of the major networks. To round things out Liberty also offered a schedule of non-sporting network programs although of considerably lower budget than the major networks' offerings.

Liberty didn't survive too long and after KWIN lost its Liberty affiliation, it went off the air on August 1, 1952 during a foreclosure proceeding. On April 20, 1953 KWIN returned to the air with DJ/music programming similar to its offerings prior to the Liberty affiliation. On October 15 of the same year KWIN joined the Mutual network and Medford, for the first time, had all four major radio networks represented locally.

On December 19, 1950 southern Oregon's first noncommercial station arrived and on the FM dial. KTEC signed on at 89.5 MHz in Klamath Falls from the Oregon Institute of Technology. KTEC was constructed as a laboratory for physics students and as an outlet for student expression at OIT. The Oregon Legislature needed to pass enabling legislation to allow the station to come into existence.

KBOY(AM) went on the air at 730 KHz, with 1,000 watts, on May 27, 1954. The station started out broadcasting "beautiful music." On December 7, 1956 Coos Bay got its second radio station when KYNG took to the air at 1420 KHz. On August 15, 1957 Grants Pass's second AM station, and third radio station, KAJO, signed on the air. KAJO broadcast at 1270 KHz with 1,000 watts and was built by Jim Wilson. It remains under its original ownership today.

In 1958 KBOY's FM station, KBOY-FM, signed on at 95.3 MHz as Medford's first FM radio station. In the early 1980's it moved to 95.7 MHz.

The radio networks were declining in audience appeal in the face of television's growing level of acceptance. Where evening hours had been radio's "prime time," gradually radio audiences starting to focus more on the day time hours, which were less competitive with television, either because TV didn't program throughout the daytime hours in its earliest years or because listeners daily habits inclined them toward radio listening. Perhaps while traveling in the car or working, they were unavailable to watch television. At the same time, just as radio was struggling to accomodate the advent of televison, new AM stations started sprouting with increasing frequency which further stressed the radio industry.

The collapse of network radio was reasonably swift and complete. In 1947 KMED over 53% of KMED's air time was devoted to network programs and another 29% came from syndicated/recorded offerings. 13% was done locally including so-called DJ programs. By 1955 insufficient listenership to radio made it difficult for networks to find sponsors whose payments would cover the cost of presenting expensive network programs. Thus, the radio networks stopped offering day-long continuous programming streams to affiliated stations and stations had to fill the "holes" thus created. Disk jockey programming, the use of phonograph with which radio started its tentative programming experiments in the early 1920's, became the staple of radio. It cost less money to present than dramas or live music. And in order for stations to be able to distinguish themselves from one another they began to specialize in the offerings of different types of music. Rock 'n Roll was the first specialized format music widely offered on radio and Medford was not immune. Eventually, KBOY-AM became Medford's first rock 'n roll radio station but, when young, first KBOY offered some Christian programming, general music and some western (DJ'd by local radio personality Phil Holman among others). KBOY-FM offered "good music" in "Hi Fi."

On August 17, 1958 Medford's KDOV signed on at 1300 KHz with 1,000 watts. The station had been built by Bill Hansen and carried considerable religious programming. On November 19, 1960 KRVC signed on in Ashland from studios in the Faith Tabernacle. Broadcasting at 1350 KHz, KRVC broadcast religious programming and Mutual network offerings. The switch of Mutual to KRVC left KWIN again in an independent status and KWIN appears to encountered some financial difficulties. In a highly confusing set of events, in the 1970's KRVC took the call sign KDOV when the station at 1300 KHz adopted the name KRVB.

The 1960's
In 1961 KGPO(FM), Grants Pass, signed off the air for the last time. According to long-time KUIN/KAGI/KGPO staff member and manager, Eddy Arnold, "They shut it down in '61 for lack of listeners. There were no [FM] sets out there then."

On April 4, 1962 KWIN moved to 580 KHz and raised its power. Offering 16 hours daily of country and western music and Trailblazers' sports, the station was no doubt hoping that the corner around which success always seemed to loom had finally been turned.

On April 7 KSHA signed on at 860 KHz. In the 1980's known as KISD, with a frequency shift to 880 KHz, the station later became KMFR.

On May 21, 1969 the area's first noncommercial radio station, KSOR, signed on at Southern Oregon College. Operating at 90.1 MHz, with a fledgling power of 10 watts which could be received only in Ashland, the station offered a mixture of music designed largely to help train college students to be announcers. Spearheaded by former KAGI employee Dave Allen, who was then teaching broadcasting at the College, KSOR broadcast during most portions of the year and offered rock 'n roll, beautiful music and classical music. It also affiliated with the Metropolitan Opera network. Due to its weak transmitter power, the KSOR signal could only be heard in portions of Ashland leaving most of the Rogue Valley only a tantalizing scent of might be with more power and more funding. One dedicated opera buff, who lived in the north county, would drive down the freeway on Saturday mornings and park outside of Ashland to receive KSOR and listen to the Metropolitan Opera broadcasts each week.

The 1970's
After surmounting opposition from Bill Hansen, on October 15, 1970 KMED-FM signed on at 93.7 MHz with the most powerful FM signal in southern Oregon. KMED-FM's first manager was Dick Huston, who has had a long and distinguished career in radio in the community. Programmed entirely originally from KMED-AM, and with a separate staff, the station later switched to an automated presentation of beautiful music. In the late 1970's it adopted a rock 'n roll format and became top-rated.

On October 12, 1971, and under new ownership, KWIN changed its call sign to KCMX. KCMX offered country music, featured Ashland Grizzlies and Portland Trailblazers sports, and included local personalities like Robin Lawson, Mel Tynan and Jim Chesky as announcers.

Joining KSOR on the noncommercial portion of the FM dial, two area high schools also built stations as training facilities for their students. In September, 1974 KCHC signed on from School District #6 in Central Point on a frequency of 91.7 MHz with 10 watts. KCHC was disbanded in the mid-1980's. On February 3, 1976 KEPO, operated by the Eagle Point School District, signed on at 89.1 MHz also with 10 watts. In the 1980's the station moved to 92.1 MHz.

On February 25, 1977 KSOR expanded from 10 watts to 2,000 watts so that all of Jackson county would have access to public radio. Then SOSC-College president James K. Sours, writing in KSOR's monthly magazine on the occasion of the station's 20th birthday, described his recollections of how the expansion came to pass.
Upon my assumption of duties as President of Southern Oregon College in 1969, KSOR was a mighty 10-watt station operating out of one small suite of rooms...Its programs were produced on dilapidated, hand-down equipment donated largely by regional, commercial radio stations. Only very recently had the College acquired the services of David Allen, a local TV news personality, to direct the station's operations....Shortly before his untimely death, Dave Allen talked with me about his belief that federal funding might be obtained to upgrade KSOR, boost its power and enhance its programming. With this in mind, I requested the Speech Communications Department to replace Dave Allen for one year with a person who would evaluate our current status and then recommend either that the College move ahead to larger and better things in broadcasting or get out of the business altogether. The Department invited Ron Kramer to join our staff for these purposes....(W)hen Kramer, a year later, recommended an increase in the College radio budget to enable the College to become eligible for triple federal matching, we responded favorably, albeit nervously, to his recommendation....The rest is history: Kramer is still here, equipment, capacity and programming have developed in significant ways; and the result has brought to the College, through a network of organized listeners, one of the strongest and most viable public support groups, using private resources, known to the College."
On July 28, 1978 Ashland's KCMX brought a sister FM station onto the air using call letters KKIC and operating at 101.9 MHz. Originally programming progressive rock 'n roll, the station switched to providing beautiful music after a couple of years and changed call letters to KCMX-FM around the same time. The stations moved their studios to Medford from Ashland in the latter 1980's. Both KCMX-AM and KCMX-FM were purchased by KTMT(FM) and KMFR in 1993.

The 1980's and 1990's
On August 11, 1980 KRWQ signed on at 100.3 MHz licensed to Gold Hill. On October 2, 1981 KFMJ signed on from Grants Pass on 96.9 MHz and installed a translator in Medford to provide service there. KYJC was extremely successful in the 1980's and early 1970's with a rock 'n roll format. On May 24, 1983 KYJC vacated its original frequency of 1230 KHZ and moved to 610 KHz with a power increased to 5,000 watts. Around 1985 KFMJ, in Grants Pass, purchased KYJC and, while maintaining a studio in Grants Pass, operated both stations largely from Medford. After a time the stations encountered difficulties and KYJC's ratings slipped. KYJC went off the air for over a year in the late 1980's and both KFMJ and KYJC were sold, although to different parties, and at that point KYJC returned to the air.

On January 23, 1984 KDOV moved to the 1230 frequency recently released by KYJC. By this time the station had been purchased from the Faith Tabernacle by Perry Atkinson of Ashland although it continued to offer largely religious programming. On April 30, 1985 a new station, licensed to Cave Junction, signed on at 97.7 MHz under the call letters KBBG. Constructed by a southern California entrepreneur, KBBG was really intended too serve the audiences of Grants Pass and Medford-Ashland and translators were installed where necessary to provide that coverage. The station had a troubled life and was sold after a while. Under a second owner the station went into a bankruptcy proceeding, and off the air for several long periods of time and eventually, after quite a time, emerged under new ownership with call letters KCNA. Following a brief flurry in the late 1980's with what, in reasonably tame southern Oregon, passed for "shock radio" on a telephone call-in format, the station emerged providing a contemporary music format.

During the 1980's public radio flourished at KSOR. Using the technology of translators, which are low power devices used to relay signals into targeted areas, KSOR's programming was extended to most of the communities of southern Oregon and northern California which could not be reached, either due to distance or terrain, by the main transmitter. Using federal funds and locally raised matching dollars, KSOR constructed a unique network of translators which numbered 34 by the end of the decade. Nationally recognized as a leader in translator development in public radio, the station constructed the largest network of translators in the nation's public radio system.

In 1986 KSOR moved its transmitter and raised the station's power from 2,000 watts to 35,000 watts. On November 7, 1987 Southern Oregon State College's KSOR signed on a sister FM station, the first instance in the area where one party was operating two FM stations in the same community. KSMF broadcast at 89.1 MHz with 228 watts and was constructed largely with spare parts made obsolete in the course of KSOR's 1985 power increase. KSOR purchased an old transmitter from KTEC, at Oregon Institute of Technology in Klamath Falls, to install KSMF. Curiously, this was returning to Jackson county because it was the same transmitter with which KBOY first signed on its FM station in 1958. KSMF offered some of the same programming as KSOR but periodically throughout the broadcast day would offer alternatives as well. For example, when KSOR presented classical music KSMF might offer jazz. The first regular "split" in their services occurred shortly after KSMF's sign on when KSOR's long-time offering of opera from the Metropolitan Opera, on Saturday mornings, would be countered by KSMF's presentation of jazz hosted by Robin Lawson. Lawson, originally at KCMX and later successfully associated with a number of different stations, was also a well known jazz musician although by the time KSMF signed on he had joined the staff of U.S. Congressman Bob Smith. Lawson was an early volunteer at KSMF and hosted the Saturday morning jazz show for many years. He had long been associated with KSOR periodically in various ways. One of KSOR's first regular live remote music broadcast series had been broadcasts of the Robin Lawson Quartet from Ashland's Oak Knoll Country Club, on Saturday nights, throughout the mid-1970's.

The "split" programming offered on KSOR and KSMF prompted the two stations to construct the facilities to provide similar split offerings in some of the other communities which KSOR served by translator. For this reason KSKF was signed on in Klamath Falls in 1988, at 90.9 MHz at 2,000 watts. KSKF used the transmitter which had been KSOR's from 1977 until the station raised power to 35,000 watts in 1986.

In 1989 KSBA was installed in Coos Bay, operating at 88.5 MHz at 2,000 watts, to provide the coastal communities in the area with the same programming heard on KSMF and KSKF. In 1990 a similar station was installed in Roseburg, KSRS, operating at 91.5 MHz with 2,000 watts.

In July, 1989 KDOV moved from 1230 to 1300 KHz, the frequency of the old KHUG which had been off the air for several years at the time. When KDOV moved from its Ashland studios to KHUG's the studio facilities in Phoenix, it concurrently donated the 1230 KHz station equipment and frequency to Southern Oregon State College's KSOR which renamed the AM station KSJK and signed it on April 2, 1990. KSOR installed automation equipment to operate KSJK cost-effectively and provide a continuous stream of news and information programming largely unavailable on KSOR or KSMF. At the same time KSOR and JPR listeners found it increasingly confusing to refer to the relationship of KSOR and its various AM and FM associated stations by using the call letters. In 1990 it adopted a name for this network of stations, Jefferson Public Radio (JPR). Referring to the mythic state which was either seriously, or humorously, intended to be brought into existence by the merger of seceding parts of southern Oregon and northern California from their parent states, JPR's stations and translators served the same area as the counties involved since 1854 in such secessionist discussions. With KDOV's move to Phoenix and KCMX's move to Medford, JPR was left operating the only radio stations remaining in Ashland.

In the summer of 1990 William Smullin and his daughter Patsy donated Mr. Smullin's original broadcast property in the area, KAGI, Grants Pass, to Jefferson Public Radio.

On August 14, 1991 KOPE signed on at 103.5 MHz licensed to Grants Pass. In October of the same year KROG signed on at 105.1 MHz. By this time the Rogue Valley, with nearly 20 operating radio stations in the Medford-Ashland area alone, had more radio stations per capita than virtually any other area in the nation.

Looking Back
When a play ends a script remains. When a symphony's final note fades a printed score endures. But, for the most part, when a radio program ends little exists in a physical form. No radio programming was recorded in southern Oregon in any form before 1950. Few, if any, of such recordings as were made after 1950 are known to survive. The written scripts for plays and announcements were not saved and, of course, the unscripted spontaneous comments of DJ's and announcers were never preserved at all. But the industry that was clearly to southern Oregon "the magic of radio" has pumped countless hours of radio programming onto the airwaves, relentlessly, day by day, year by year, ever since the first broadcast from Elmer Morrison's garage in 1921. Unlike other artistic or communication endeavors, there is no printed or physical result of this effort which has endured. One can't wander the backstage wings of theater or concert hall to commune with the "ghosts" of forgotten performances because, unlike these art forms, the audience for radio never gathered in a since physical place. Radio was simply part of the lives of its listeners' in their own unique places.

So now all that remains of the vision, talent, inspiration, aspiration and perspiration of the labors devoted by the Virgins, Morrison, Jordan, Bishop, Rush, Rees' and the countless broadcasters to follow in their wake, is the reminiscences gathered in discussions like these and the changes they brought to a young, pristine, somewhat isolated region whose world would forever be changed by them.

This is their story.