/ Homepage / Special Projects / History of Broadcasting in Southern Oregon / History of Television in Southern Oregon / Bill Smullin: Southern Oregonís Television Pioneer

Bill Smullin: Southern Oregonís Television Pioneer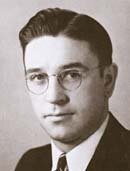 Bill Smullin. Photo courtesy William Smullin

BY RONALD KRAMER
With a twenty-year history already in broadcasting, William B. Smullinís greatest accomplishments were waiting to develop in southern Oregon with the age of television.
Smullin was born in Pennsylvania, raised in Oregon, and took a degree at Willamette University, where he both managed and edited the universityís newspaper. After graduating, he remained in the newspaper field, working several years at papers in Coos Bay, Salem, and Portland.
In 1933, during the height of the Depression, Smullin decided to enter radio by starting his own station in Eureka, California. He built KIEM into one of the nationís most widely respected small-market stations.
Smullin later entered into a partnership with Amos Voorhiesóthe highly respected owner/publisher of the Grants Pass Daily Courier ó resulting in Smullinís second radio station, KUIN. The partnership flourished with the arrival of television in southern Oregon. By 1953, the two men had established Medfordís first television station.
Smullinís broadcasting reputation continued to grow with the founding of KIEM and KUIN. He became a board member of the influential National Association of Broadcasters and was often profiled in respected national journals. As a civic leader, Smullin launched a successful campaign to base a naval air station in Eureka. In addition to being a broadcaster, manager, and station owner, Smullin was also something of a visionary. His decision to construct KUIN in Grants Pass proved instrumental in southern Oregonís development and vitality.